The Gerda and Kurt Klein Foundation creates the opportunity for young people to understand the world and translate that understanding into positive action. This public non-profit foundation promotes education which teaches tolerance and respect for others, and encourages community service.
Gerda Weissmann Klein receives the Presidential Medal of Freedom.
The Medal of Freedom is the Nation's highest civilian honor, presented to individuals who have made especially meritorious contributions to the security or national interests of the United States, to world peace, or to cultural or other significant public or private endeavors. Here is what was said about her
Gerda Weissmann Klein. Gerda Weissmann Klein's life is a testament to the tenacity of the human spirit. A Holocaust survivor, she was separated from her parents and sent to a series of Nazi labor camps. In 1945, she was one of a few survivors among those forced to undergo a 350-mile death march to avoid the progress of liberating Allied forces. From tragedy to triumph, she and her husband proudly started the Gerda and Kurt Klein Foundation to promote tolerance, respect and empowerment of students throughout the world. By sharing her stories and encouraging others to see themselves in one another, Gerda Klein has helped to advance understanding among all people.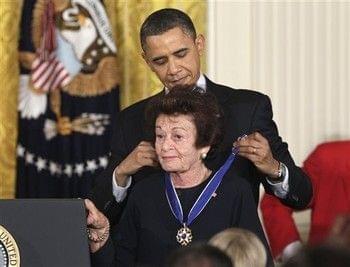 LESSONS FOR GERDA WEISSMANN KLEIN MEDAL OF FREEOM: POSTSCRIPT TO OSR
NEWS FLASH: Over 140.000 teaching kits have been distributed throughout the world. New editions of the Klein Foundation's award winning materials are now available!!!
One Survivor Remembers: ORDER YOUR NEW EDITION CONTAINING UPDATED LESSON PLANS AND EXCITING NEW DESIGN!
The Klein Foundation has partnered with The Southern Poverty Law Center to distribute a comprehensive educational kit based upon the Oscar-winning documentary, One Survivor Remembers. This kit contains more than a dozen standard-based lesson plans.
Check out the newly revised inTIME classroom magazine Teaching about the power of individuals to make a difference