About The Gerda and Kurt Klein Foundation
"Ilse, a childhood friend of mine, once found a raspberry in the concentration camp and carried it in her pocket all day to present to me that night on a leaf. Imagine a world in which your entire possession is one raspberry and you give it to your friend." – Gerda Weissmann Klein
The Kleins Dream of a Better Future
Through their Foundation, Gerda and Kurt Klein have created the opportunity for young people to understand the world and translate that understanding into positive actions. The Foundation, which became operational in 1998, promotes tolerance for differences, respect for others and the empowerment of students through education and community service. Kurt's unexpected death on April 19, 2002 was a shock to us all; but Gerda is committed to carrying on and so are all of us who believe in their dream.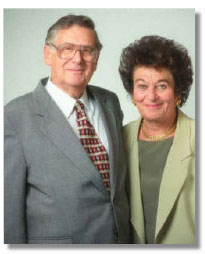 Gerda, as a survivor of the Holocaust, and Kurt, as her liberator, have used their experiences as a catalyst for helping to preserve the memory of the Holocaust and to draw on the lessons learned from that dark period of history. Our world today may be different from that which Gerda and Kurt faced as young adults; however, many of the same issues continue to confront us. All of us recognize the increasing violence in our schools, the lack of tolerance for diversity, and the loss of respect for personal differences.
Many of us wonder how to make the world a more positive place for us and for our children. The Kleins help us answer this question through the telling of their story and the projects they have undertaken on behalf of others, particularly those which enable young people to feel empowered. Children care deeply about the future and often feel frustrated by school violence, intolerance, poverty and hunger. Through the example of the Kleins, young people can help to free the world of prejudice by assuming responsibility for its betterment today. The future of our communities rests in their hands.
More About the Kleins