News and Events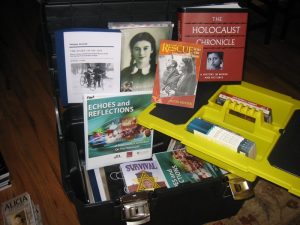 Klein Foundation Teaching Materials included in Holocuast Education Trunks: The Klein Foundation's two educational kits are included as a part of state wide teaching trunks to bring Holocaust education to area schools. For more information on how to obtain our free teaching materials for your school, please contact us.
2009
Holocaust survivor inspires Lyndon School students with optimism
2008
Download the 2008 Summer Newsletter
May 4 and 10, 2008: Gerda Klein featured on Seeking Solutions with Suzanne. More…
Gerda Klein speaks in Moosepass, Alaska. More…
Februrary, 2008: Phoenix Magazine author Adam Klawonn interviews Gerda Klein – A Survivor Inspires.
Februrary, 2008: The Gerda and Kurt Klein Foundation is proud to recognize and highlight the achievements of Clarence High School in New York. We asked Kevin Starr, student council advisor and some of his students, to allow us to share their story on our web site. Learn More.
2007
November, 2007: All But Her Life – Gerda Klein is featured in School Library Journal in an article by Margaret Lincoln. Visit http://www.schoollibraryjournal.com/article/CA6494169.html to learn more!
May 1, 2007: MY SISTER PROGRAM AT COEXISTENCE FESTIVAL: Read about a unique program with two remarkable women: Gerda Weissmann Klein and Zainab Al-Suwaij with moderator Dr. Dan Gottlieb. More info: http://www.njjewishnews.com/njjn.com/051007/njSurvivorAndIraqi.html
2006
May 15, 2006: Gerda Weissmann Klein and Morris Dees together in their first public program- hosted by Dr. Dan Gottlieb on WHYY (NPR), Philadelpha, PA. Listen to this fantastic interview.
January 27, 2006: GERDA KLEIN SPEAKS AT THE UNITED NATIONS
We are proud to share with you that Gerda Weissmann Klein was invited to be a speaker at the International Day of Commemoration in memory of the victims of the Holocaust. The clip below is an extraordinary surprise. When finished, click on the picture of Gerda to view her entire address in the General Assembly Hall.
To view the video of her speech, please click here.
For more information please click here
Gerda Klein's book, Boring Evening at Home, available at bookstores
HOLOCAUST SURVIVOR INSPIRES HEALING
Web Exclusive!
In the aftermath of the murders of 12 students and a teacher, Columbine High School turned to someone who knew first-hand how to overcome tragedy and build a path towards healing.
Recipe For Success: Learn about The Great American Bake Sale
Hold a Great American Bake Sale- it's a fun and simple way to make sure kids in your state get the nutrition they need. Check the website
www.greatamericanbakesale.org to find the information, tips, and materials you need for a successful event.
The Souper Bowl of Caring
This grassroots effort began in Columbia, South Carolina in 1990 and has grown to a national movement of caring generating over $28 million for hungry and hurting people across the world. To get involved in this simple, yet significant effort, visit www.souperbowl.org.
Gerda Klein In the News:
Jewish Exponent, April 2006: Working to Banish Intolerance in a World Steeped in It
USA Today, March 7th, 2006: The lesson plan is tolerance
Philadelphia Inquirer, Feb 12th, 2006: Verbatim Verbatim 'the wonder of freedom…'
Philadelphia Inquirer, Jan 18th, 2006: A Message Of Hope For Fresh Minds