Teaching Tolerance
ONE SURVIVOR REMEMBERS: A Teaching Kit for Grades 8-12, as well as college level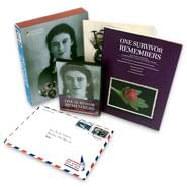 "One Survivor Remembers" tells the unforgettable story of Gerda Weissmann Klein's six-year ordeal as a victim of Nazi cruelty. Klein describes her years in Nazi labor camps and months on a forced death march. Though her experience was horrifying, Klein also remembers wonderful acts of decency and normalcy — testaments to the greatness of humanity.
This teaching kit sheds light on the 20th century's terrible history of devastation and prejudice, yet offers hope that hatred can be overcome. It includes:
A 40-minute Oscar-winning documentary film by Kary Antholis, available in VHS or DVD format, with closed-captioning;
A collection of primary documents, drawn from Klein's personal collection;
A resource booklet including a Holocaust timeline; and
A teacher's guide with standards-based lesson plans including service learning activities.
"One Survivor Remembers" is made available through a special partnership between HBO, The Gerda and Kurt Klein Foundation, and Teaching Tolerance/Southern Poverty Law Center.
To Order a free kit or be added to our mailing list
click here!
This entry was posted in news. Bookmark the permalink.
Leave a Reply
Your email address will not be published. Required fields are marked *