Outstanding Educators
Do you know a teacher who is making a difference in your school and community? Let us know about their efforts to teach tolerance and encourage service activities to fight prejudice and hunger. Nominate them!
Once again, we wish to recognize Kevin Starr and the Student Council at Clarence Central Senior High School in Clarence, New York. Through the efforts of Mr. Starr and his students, over $298,000.00 has been raised and distributed over the past 19 years as a result of their "sleep out" to benefit the poor and homeless. What an incredible lesson in caring and community service. Thank you, Mr. Starr, for serving as such a wonderful role model for all of us!!! Create a "sleepout" in your own community.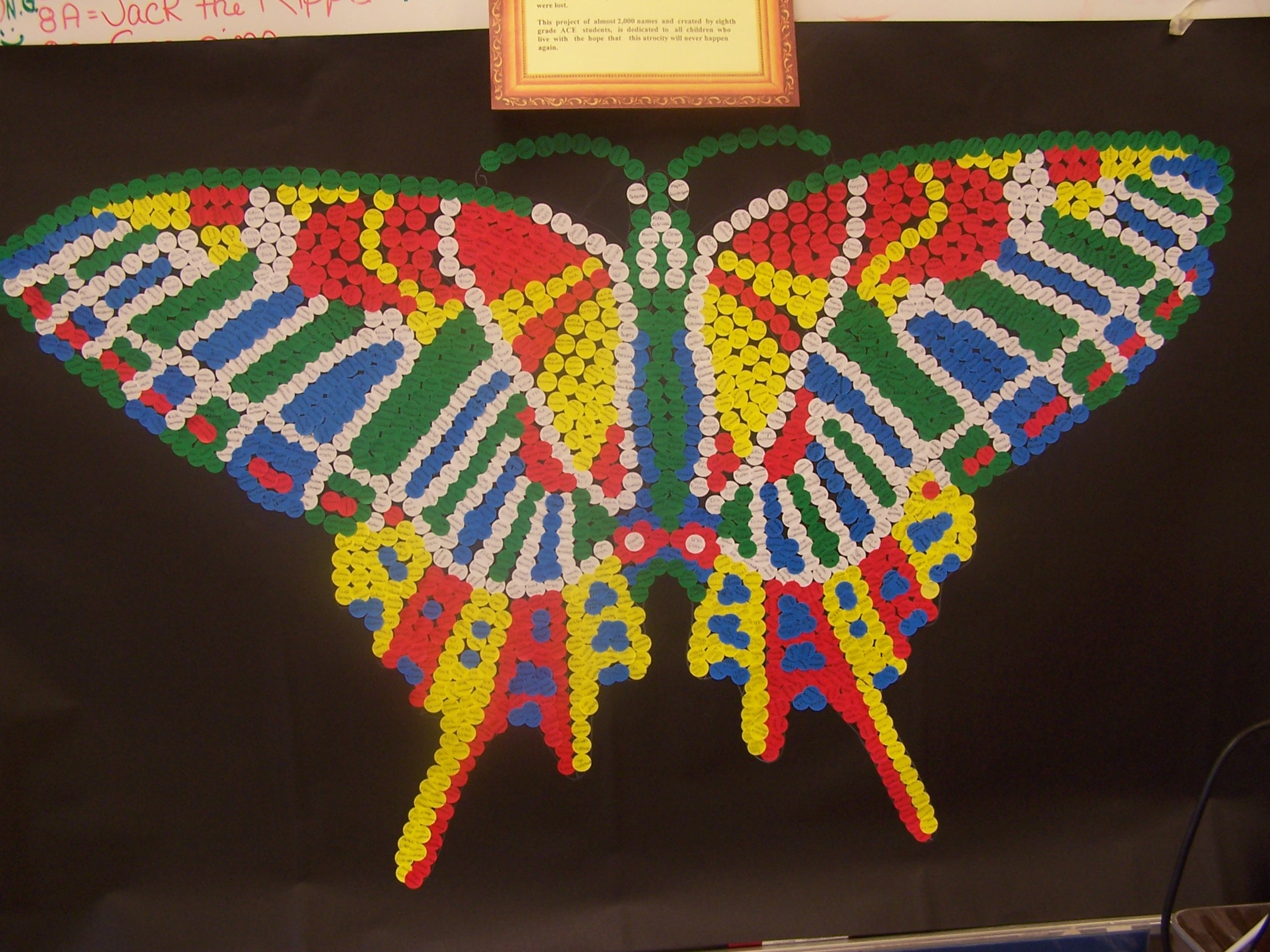 We are proud to recognize Joyce Gutelius and her students for their meaningful and creative project. At the end of their unit on WWII, Mrs. Gutelius's eighth grade students designed the butterfly pictured below. According to Mrs. Gutelius, "The butterfly, (a symbol of the holocaust) was made up of nearly 2,000 dots. Each dot has the names of children on them who lost their lives during the Holocaust. The names were taken from the internet and pages of testimony submitted to Yad Vashem 's Hall of Names. We will have it mounted and framed by our wood shop this summer and are asking the Holocaust Museum if they would like to show it near their wall of tiles." We are honored to share this wonderful project on our web site.
Special thanks to Susan Yablon and Karen Arcidiacono of Colonial School District in Plymouth Meeting, Pennsylvania for sharing their creative teaching ideas with the Klein Foundation. Susan and Karen utilized the Klein Foundation materials as a part of their 6-week extensive unit on Holocaust Studies. As a result of this unit, the students created a permanent exhibit in the main hallway of their school entitled "Words That Inspire- Actions That Make A Difference." According to Susan, "Each of the 125 students on the eighth grade red team selected a Holocaust novel for independent reading. They began to question more deeply how something like this could ever happen. Students selected a meaningful quote from their readings that inspired their actions to make the world a better place… Our eighth graders, individually and in small groups, created projects to foster caring instead of intolerance." An online survey of the students reveals that 90% of the students stated that the unit was "life changing." We appreciate the talents and energy of these two creative educators and are grateful that they shared their story with all of us.
The Klein Foundation recognizes Diana Lewis of Chain of Lakes Middle School in Orlando, Florida for her continued support and creative teaching initiatives. Ms. Lewis and her students read and study Gerda Klein's book each year and declare the first week of May as "Gerda Week." According to Ms. Lewis, the students then "bring in donations to acknowledge Mrs. Klein's birthday and remember the invaluable work of Kurt Klein as well." We thank Diana Lewis and her students for their generosity and caring. What a meaningful way to recognize the Kleins and the work of the Foundation.
Special recognition goes to Carol McNally Hubbeling and her students from Central High School in Rapid City, South Dakota. Mrs. Hubbeling has been teaching Gerda Klein's story for the past 28 years as a part of her creative writing curriculum. She has created a wide array of creative assignments and projects for her students to complete in conjunction with their reading of "All But My Life". Sample assignments include: writing a letter to President Truman thanking the Americans for rescuing Holocaust survivors and creating a "What do I remember?" poem based upon Mrs. Klein's reflections in her book. We are grateful to Mrs. Hubbeling and her students for sharing their projects, poems and assignments with the Klein Foundation.
Kelly Everding is an example of a master teacher bringing a unique and powerful understanding of the Holocaust to her students at Freeport High School in Freeport, Illinois. Mrs. Everding's lessons, including packing a "relocation bag" and creating a patchwork quilt to remember survivors of the Holocaust are wonderful examples of ways to teach a most difficult subject matter. We are grateful to Mrs. Everding for sharing her creativity with the Klein Foundation.
The Klein Foundation recognizes Diane Verna Farley of State College, Pennsylvania for an exceptional In Service Program on January 17, 2005 in honor of the Martin Luther King holiday. Sharing the Kleins' story and the work of the Klein Foundation with educators and administrators throughout the State College School District, Mrs. Farley exemplifies the principle that one person can make a difference! "I am honored to embrace the duty of spreading Gerda's universal message," Mrs. Farley shared with her workshop audience, "and to embrace this message is to be in the arms of pure love and all that is good within humanity."