Student Spotlight
Do you know students making a difference in your community? Nominate them!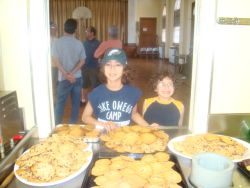 Brothers Ethan (11) and Jonah (7) Reisboard volunteered at the Community Soup Kitchen in Orange, NJ in April 2009. The Community Soup Kitchen is serviced by a group of local religious congregations who alternately serve the guests a hot mid-day meal each Sunday. As member of Temple B'nai Abraham (TBA) in Livingston, NJ, Ethan and Jonah helped set the tables with bread and salad, served a home cooked meal to the guests at the table, and helped clean up. When TBA hosts the Community Soup Kitchen, guests of the Soup Kitchen are treated with dignity and respect. They are greeted at the door and asked to take a seat, have food and drinks brought to them at the table, are offered seconds and "take-out", and are served homemade food, including fresh salad and fruit. Ethan and Jonah volunteer at the Soup Kitchen a few times a year and find it a very rewarding experience.
Boca Raton High School
Boca Raton, Florida
The Klein Foundation is proud to spotlight students Ali LeVine and Corinne Gilad and their organization called Triangles of Truth. With their teacher, Ms. Kay, they commemorated Holocaust victims by creating triangles with their names that read: "In honor of Holocaust victim _______ I choose to end genocide today. I was not able to help then. I am willing and able to help now." Ali and Corinne sold triangles for $1.00 and donated the money towards the battle to stop genocide in Darfur through the Save Darfur Coalition and the Genocide Intervention Network. They collected over $26,000 by involving schools, colleges, and other organizations across the country. Together with other dedicated students, they created triangles, contacted others, and spread awareness of the horrors in Darfur. We applaud Ali and Corinne and congratulate their efforts to raise awareness and understanding. Their words say it best: "Though we were not able to help the millions of Holocaust victims, we are determined to make a difference today".
Dallastown High School
Dallastown, Pennsylvania
Congratulations to the Mastermind Team of Dallastown Area Middle School in Dallastown, Pennsylvania who created a sleep out in their community to help the homeless. These students worked hard to acquire large appliance- sized boxes; created both print and TV ads which included facts about the homeless in order to educate the school; organized a "Slipper Day" to donate to the homeless; and on May 15th, slept on the high school football field to simulate the experience of being homeless for a night.
The night of the Sleep Out was a huge success. The students were able to present the nearly $2,500 raised to four organizations who help the homeless in the area. Recipients were an organization that shelters abused women and children, one which helps the homeless in transition, one which works in part as a rehabilitation facility for the homeless, and one which provides low-cost groceries to the poor. All of the representatives from these organizations informed the students of their daily work, and answered the kids' excellent questions. Not only was that night lots of fun, it was a proud moment for everyone involved. We are proud of you too!
Christopher Columbus High School
Miami, Florida
The members of Student Interfaith Holocaust Awareness – Unite Against Racism completed a number of projects at the encouragement of Gerda Klein. The Klein Foundation is excited to highlight some of the accomplishments of this group: STAND UP – Students and teachers took stands for something they believed in. Students and teachers stood up for individuals who had been persecuted for their beliefs. MIX IT UP – students worked together to stretch boundaries and spend time with other students they normally wouldn't sit with at lunch. SPEAK OUT – Members of the group wrote elected officials and local news organizations to SPEAK OUT against injustice and intolerance. Members have signed on to STAND STRONG AGAINST HATE at http://www.splcenter.org/center/petitions/standstrong/ . In addition, these students did a number of projects to raise money, items and awareness: SHOE DRIVE – They collected over 90 pairs of lightly used shoes for Soles4Souls to be sent to lower income families in Alabama. NOTHING BUT NETS – Students raised $300 to buy mosquito nets for children in Africa. (Mosquito nets are critical to stemming the spread of malaria among children.). SPORTS EQUIPMENT AND ARTS SUPPLIES DRIVE – students collected sports equipment and art supplies and donated to a local elementary school facing closure. PROM PROJECT – students raised money to sponsor a Prom for homeless students. CASTAWAYS AGAINST CANCER – the school raised over $2000 for the fight to find a cure for cancer. Congratulations to Christopher Columbus High School for all that you do!!
Livingston High School
Livingston, New Jersey
At Livingston High School students are working to spread genocide awareness to their community. The Holocaust & Genocide classes, taught by Jill Tejeda, have been working on projects all year to create genocide awareness. The students have been encouraged to create a project of their own that could help educate others. Two of these projects include teaching themes of genocide to other grade levels and publishing newspaper articles. The students agree that this is the real meaning of the course and want to help to create a better future. If more people are educated about genocide, they will be more likely to fight against it by; lobbying to politicians, donating to or adding relief efforts. Unlike with most other classes, at the end of the year these students were able to say that they helped their community and made a difference in the world. We hope that more students learn these important lessons and we applaud Ms. Tejeda and her students.
Rahway High School
Rahway, New Jersey
Rahway High School is cooking!!! The Rahway High School Multi Ethnic Cultural Club (MECC) holds a charitable fund raiser every year. They have raised money for Heifer International; sent scholarship money in the name of NJ students slain at Virginia Tech and raised $300 for a children's lunch program in Burundi .This year the club focused on genocides around the world . MECC participated in the "Morris Rubell Remembrance Journey" to Washington DC and visited the US Holocaust Memorial Museum. MECC geared its fundraising toward the crisis in Darfur with the goal of purchasing Solar Cookers for the refugee women. The club sold maps and flags of the world which decorated the school's hall ways. Information about the project was posted throughout the school during Multi Cultural Week. The chain grew as the link of maps and flags decorated all three floors of Rahway High School. The students raised over $1,000 for this project — a record for the MECC club. Congratulations to the Rahway Multi Ethnic Cultural Club. We can't wait to see what you plan for next year!
Rosa International Middle School
Cherry Hill, New Jersey
Rosa Middle School's "Do Something Club" combines two monthly activities. "Little Snacks for little mouths" is an ongoing project that students work on twice a month. Positive messages adorn brown bags filled with healthy juice, pretzels, and rice crispy treats. 100 of these "goody bags" are delivered to the Cathedral Kitchen in Camden, NJ. The members of the "Do Something Club" feel fortunate to live in Cherry Hill, NJ and realize that there are many kids in neighboring communities that don't eat healthy snacks when they get home from school. These caring students also created the "Elementary2Middle" project to tutor children in a local after school program. According to Rosa students, "We want to show them that teenagers are great kids with great values. We hope that some of these kids continue this tradition when they enter 6th grade at Rosa." Making a difference is what Rosa Middle School is all about – and the Klein Foundation congratulates you on your efforts to make a difference in your local community!
West Middle School
West, Texas
Ashley Gaston, Ryan Radke, Brihanne Deiterman, and Kevin Cvikel joined the ECyberMission Team at West Middle School and were tasked with the job of helping their community. These exceptional young men and women decided to tackle the problem of underage drinking and driving in the community. They decided to solve this problem by conducting the first ever Shattered Dreams Program at the high school.
Many thanks to 8th grade science teacher Christy Nors who shared the following with the Klein Foundation: "I have 4 students that have done an amazing service project this year. If you are not familiar with the little town of West, Texas let me fill you in. We have a culture here that is heavily based on drinking. It is the favorite past-time here, even among the teenagers. We seem to lose about one teenager a year to a drinking and driving accident. These four students recognized that problem and set out to change it". On April 2nd and 3rd, Ms. Nors' students helped present the Shattered Dreams Program to the local high school. Shattered Dreams is a 2-day program which attempts to drive home the consequences of drinking and driving with a mock crash, living dead, mock memorial, and guest speakers. Ashley, Ryan, Brihanne and Kevin spent countless hours organizing and planning this program, and, according to Ms. Nors, "the 2-day event went off without a hitch". These students made a huge impact on this community, and the local school board voted to repeat this life-saving program every four years. Many thanks to Christy Nors and her students for all their efforts. We are proud to spotlight you!
The following represent the community service projects initiated as the result of the STAND UP. SPEAK OUT. LEND A HAND video conference programs in 2009. The Klein Foundation wishes to thank all of the schools for submitting the following entries to be included on our web site. We congratulate all the students and teachers for their work to help make a difference in their community and the world:
Delaware Valley High School
Milford, Pennsylvania
The 11th grade Combo class at Delaware Valley High School has selected a few community issues to address since the meeting with Gerda Klein. The students attacked local poverty by collecting food during the holiday season for local pantries that are struggling to serve the people in need. Also, the students are collecting supplies to send to the local soldiers stationed in Iraq. Finally, in April, the class held a district-wide Alex's Lemonade Stand fundraiser to raise money to help fight pediatric cancer.
Broadway High School
Broadway, Virginia
In the Shenandoah Valley's Broadway High School, we used the initial videoconference with Gerda to initiate our study of Elie Wiesel's Night. Gerda inspired the 9th graders to search for a way to respond to intolerance in our community. They have been completing projects on genocides throughout history and creating PowerPoint presentations and "Toolboxes for Change" which include symbols of the genocide that they elected to research. One of the genocides that we have discussed and researched is the crisis in Darfur.
The students discovered that a local Sudanese refugee family has been here with three of their four children for the last six years. In the last month, the father has completed the necessary paperwork to bring their youngest child to the United States and reunite the family. Students have begun a fundraising project to help cover the cost of the plane tickets and to provide necessary expenses for the young man as he rejoins his family. They are making informational announcements, posters and conducting a "penny drive" next week here in the school. As soon as the weather breaks, they are planning a fundraising "walk" to call attention to the Darfur genocide, since so many "lost boys" were forced to walk across the desert. By collecting sponsors for their walk, they hope to raise additional funds for the boy's medical needs and cost of his settling in a new country. We have made a local connection to a global issue of intolerance in our small way.
Westfall High School
Williamsport, OhioFor our service project we are conducting Penny Wars at our High School this week in fact. Each grade is competing against each other to bring in the most pennies. The hindrance though is Silver change may be used to cause another class to lose points. A nickel is worth -5, dime -10, etc. After we have collected that money, we are giving the proceeds to the Pickaway County Food Pantry either in a monetary donation or food donation, whichever they prefer.
Bala Cynwyd Middle School
Bala Cynwyd, Pennsylvania With so many social issues that are important to us, the eighth grade students from Bala Cynwyd Middle School, are still in the process of determining what we will do for our service project. We have been doing research on the needs in the Philadelphia area and we have written proposals and made video advertisements to persuade our peers.
Dallastown Area Middle School
Dallastown, Pennsylvania
The Masterminds team of Dallastown Area Middle School planned a Sleep-out for May 15th. In the time leading up to this date, we were busy gathering large appliance boxes, requesting sponsors for the evening, and asking representatives from local homeless shelters to be speakers for our special night. We advertised our Sleep-out as a fundraiser for the homeless of York County, Pennsylvania, through student-created school announcements, fliers, and middle school public service announcements. With the sponsorship of parents and other charitable citizens and businesses, we made sizable donations to the organizations represented by those who come speak to us at the Sleep-out.
Lakeview High School
Battlecreek, Michigan
Lakeview High School students participated in several different public service projects. First, our students worked together with our school's Key Club and Rachel's Challenge group to collect food for our local food bank. This year was a record year for collections. In addition, our students worked with our National Honor Society to visit our local Veterans' Hospital to sing carols and hand out presents to the veterans who were spending the holidays there. If weather permits, we still hope to get some work done with our local Habitat for Humanity.
1. They sponsored a "Stand Up" day-long event at school during which students and faculty stood up for ideas and individuals who have taken stands in history and currently, and also stood up for those who are being oppressed. They made placards and flyers and PSAs to help raise community awareness.
2. Students are writing letters to newspapers, and elected officials to "Speak Out" against injustices they witness locally and globally.
3. Students are working to "Lend A Hand" in many areas: raising funds for "Nothing But Nets," collecting shoes for "Soles4Souls" and gathering art supplies and sports equipment for the elementary schools threatened with closure by the end of the academic year. They also are selling pizza and cookies to help fund the sophomore-wide Student Awareness Day during which 33 Holocaust Survivors spend the day with students in the prejudice reduction program.
Riverside Jr./Sr. High School
Taylor, Pennsylvania
Making Your Winter a Little Sweeter. The students at Riverside Junior Senior High School decided that they wanted to help families in our district who might be having a hard time buying groceries due to the problems in the economy. The students decided to hold candy bar fundraisers, with the money raised twenty families in our district received giftcards for local supermarkets. The students also organized a clothing drive. The students collected, laundered and distributed the clothes to local shelters.
Bryan Station High School
Lexington, Kentucky Helping Hands of Lexington. The students of Bryan Station High School have spread out around their community to serve those in need. These students felt they would make a huge impact in their community if they each chose different service organizations to volunteer for. These volunteer hours range from free babysitting for single moms, serving food at shelters, cleaning cages at the local Humane Society, and on and on! They have truly touched lives around Lexington!
Spring-Ford High School's 9th Grade Center
Royersford, Pennsylvania Patchwork Philanthropy. Students at Spring-Ford High School's 9th Grade Center worked within student-organized and student-driven committees in order to plan, promote, and implement a patchwork of service learning projects, which are woven together with a common thread, namely to make a difference within Montgomery County, Pennsylvania. Three committees, who are carrying-out their projects within the school setting, utilized the school store for a bake-sale, collecting canned food and boxed pasta during lunch, and collecting donations of paper products and books during lunch. Committee members encouraged their peers to participate by creating flyers and posters, making announcements, and creating incentives, such as a homeroom pizza party and a raffle for a gift card. The remaining two committees, who worked outside of the school setting, collected food donations by reaching out to their parents' place of employment and local neighborhoods and boxed food to be mailed to a food pantry.
Cincinnati Christian School
Cincinnati, Ohio
The sophomore class of Cincinnati Christian Schools decided to participate in a 30 hour fast and volunteer opportunity at Intimate Gatherings in the heart of Cincinnati. Each student received money from sponsors for fasting something they "cannot live without", such as food, texting, or FaceBook, for 30 hours straight, with the proceeds going to a volunteer organization that feeds and shares the gospel with families in the Northside area of Cincinnati. Students volunteered at the shop on Sunday mornings to cook and serve food to the residents of Northside. We were all ecstatic about this opportunity to help others in need, and felt that it brought our class closer as a whole all while teaching us the important lessons in life.
Brookeville Area Junior/Senior High School>
Brookeville, Pennsylvania
The students at Brookville Area Jr./Sr. High School participated in a "Chill for Charity" event. Students formed teams and gathered sponsorship from the community to raise money for a homeless shelter in Blacklick, PA. At the four hour outside event, students participate din various activities including building shelters from boxes and listening to several presenters about their experiences with homelessness.
Wallenpaupack Area School District
Hawley, Pennsylvania
Think and Act Locally and Globally. Two groups of middle and high school students from the Wallenpaupack Area School District in Hawley, Pennsylvania, performed community service projects. The middle school students collected and delivered food to food pantries serving our two rural counties. The high school students raised awareness about and funds for school reconstruction efforts in Northern Uganda. Our goals were to stress civic responsibility and informed activism at a local and global level.
The Klein Foundation is proud to spotlight Katelynn Wright, a student at Lakeview High School, who has been recognized as the Michigan winner in the Library of Congress Letters About Literature contest. The Library of Congress Letters About Literature program is a national writing contest which gives young readers the opportunity to write letters to authors, living or dead, describing how the authors' work has changed the students' way of thinking. Approximately 59,000 entries were received nationwide in this year's reading promotion program that is affiliated with the Center for the Book at the Library of Congress. Katelynn's letter was written to Gerda Weissmann Klein. Coincidentally,when Gerda spoke at Battle Creek's Kellogg Auditorium to 1900 students last April 16, 2007, Katelynn was the student who introduced Gerda. Congratulations Katelynn for this wonderful honor!
Congratulations to Commerce High School students Sean Richard, Trae Ratliff and Ally Burt, and their teacher Danesa Napier, for winning 3rd place at the District History Day competition. Using materials from the Klein Foundation teaching kits, this creative team made an award-winning display entitled "Journey of Hope." We wish them luck as they go to the State level competition in Oklahoma City, Oklahoma.
The Klein Foundation was thrilled to partner with MAGPI for "Stand Up, Speak Out, Lend a Hand," our 5th internet2 video conference program with middle and high school students across the country. Students involved in this program heard Gerda Klein during a special interactive program held in November, 2007 and then embarked upon their own service learning projects. Each participating school was challenged with designing and implementing a service learning project that combats social issues in their community. Students reconvened via videoconference to share their service learning projects with Gerda during a celebratory "Project Collaboration Videoconference" in March, 2008. Andrew and Lindsay Ullman, grandchildren of Gerda and Kurt Klein, also participated in this collaboration video conference.
As a result of this unique interactive series, 45 schools from around the country initiated their own community service projects. We are pleased to share the following summaries – submitted by the participating schools – and applaud the work of the dedicated students and teachers:
Alexander High School (Laredo, Texas)
Living on the border presents a variety of cultures and languages. This often leads to division by legal authorities and citizens alike. Our goal is to teach our students to lead our community into an acceptance of differences in faiths, races, languages, and cultures. We began by reading Night in our English I classes, after we watched the Gerda Klein video. We wrote poems and researched genocides across the world. The local rabbi spoke to our students about the reasons behind the Holocaust and how intolerance can lead to disaster. Then we invited Rachel Seigel, a 14-year-old author from Dallas who wrote about people who helped the Jews during the Holocaust. After Rachel we participated in the Web Cast with Gerda Klein. On December 5 we hosted two Holocaust survivors, Anna Rado and Rose Williams. The San Antonio Holocaust Center brought them to Laredo for us, and we Web Streamed their two presentations throughout the district. In order to get a ticket to see them live, students and adults were asked to bring four items of food. We collected almost 10,000 items which were distributed to needy students, custodians and the South Texas Food Bank. The Web Streaming reached more than 10,000 students, teachers and community members. Our students are writing to people concerning their involvement in the Holocaust and the reason behind their involvement. Because of the problem with intolerance on campus, we have begun creating a Tolerance Zone with plaques, seating and plants. The cement will have the logo one of our students created, along with butterflies (representing innocent victims of genocides and intolerance) painted on the cement. Around the edge will be handprints of everyone who pledges to be tolerant of others. Each handprint will include the name and cost $5.00, which goes toward a Tolerance Scholarship we have begun. We have raised $1500.00 so far and expect to award scholarships totaling more than $3,000.00 the first year. Community members have donated time, work, and supplies to make this project a success. I also received a $1,000.00 grant from the Association of Texas Professional Educators to build an entrance to the zone. Five history professors are going to have a panel discussion next month concerning intolerance and how it can lead to war and genocide. Some of these professors have lived through genocides in their native countries. The art department is helping create art, the social studies is researching and bringing in speakers, and the English department is compiling writings from our students. Plans include a DVD of the year's activities, along with a book of writings and illustrations by our students and the people who have visited or written this year. We have a dedication ceremony tentatively planned for April, with proclamations from government officials and guests from across Texas. This project has just begun and we hope to see major changes in the next ten years. Our students are excited about learning and our teachers are excited about teaching once again.
Colonial Middle School (Plymouth Meeting, Pennsylvania)
Wanting to make a difference just as Gerda Weissmann Klein had challenged the 8th grade Gifted English classes at Colonial Middle School split into groups and organized different community service projects. Targeting those who are hungry, their service projects include Peanut Butter and Jam sandwich making- a nutritious way to donate food. A monthly, non-perishable food drive will also take place during February, March and April. The food will be donated to Colonial Neighborhood Council. Creating packed lunches for those who leave the Salvation Army shelter to work or go to school during the day is another on-going project. Lastly, hygiene packs, which include toothpaste, a toothbrush, and other personal care items such as toothbrushes, toothpaste, shampoo, razors, etc., are being assembled to donate to shelters. We also have a Public Service Announcement on our website. Here is the link: http://www.colonialsd.org/colonial/lib/colonial/citv/cmsspeakup.swf
Frazier Middle School (Frazier, Pennsylvania)
The students at Frazier Middle School are preparing a 2 minute documentary on the Food Drive they ran from November 19, 2007 to December 14, 2007. The students took pictures during the set up, collection, and distribution of the non-perishable items. They took the pictures and used a computer program to create a DVD that shows the activity. The students had a lot of fun and were very pleased to be able to others in their community during the Holiday Season.
Cooper's Poynt Family School (Camden, New Jersey)
The students involved in this service project from Mr. Ferber's 8th grade Language Arts Literacy class have chosen to coordinate a fundraiser to raise money for The Cathedral Kitchen, a local soup kitchen, as well as another charity to be chosen. Additionally, we will be "adopting" our pre-school classes and are organizing a "Read Along with Me/ Role Model program. Last, but definitely not least, we would like to open the doors of communication with different schools with diverse student populations for a day of dialogue and understanding. As an inner-city school, we have many questions that we would like to ask students in suburban schools. We are sure that students in suburban schools have many questions about growing up in the inner-city. A "Get to Know Us Day" would open the doors of connection, understanding, tolerance, and acceptance. We could set up this "Diversity Dialogue" through our Distance Learning lab, or by a visit. Interested parties can reach us at [email protected].
Chariho Regional High School (Wood River Junction, Rhode Island)
Chariho Helps End Hunger in the Community
The students in the Chariho Community Service Program are working to help end hunger in their community. They will run a canned goods drive in November and December 2007 and deliver the items to the St. Mary's St. James' Community Food Pantry. At the food pantry, they will learn about hunger and food pantries in the state of Rhode Island. The students will also volunteer to work in the food pantry by stocking shelves. The students will also create a lesson appropriate for 3rd and 4th graders and teach it to students in the elementary schools in our district.
North Kingstown High School (Kingstown, Rhode Island)
Rhody Care for Veterans and Overseas Soldiers!
In December, we decorated cookies and held a Christmas card drive throughout our community to collect cards to send to our veteran's home in Bristol RI. We also put donation boxes around local communities to collect items to help us create care packages to send to Baghdad. Altogether our shopping and donation boxes helped to pack ten large boxes! They are currently on a plane to Baghdad!
Schuylkill Intermediate Unit 29 (Mar Lin, Pennsylvania)
The IU Center's theme revolves around our Wellness Program that has been incorporated this year. Our students will be busy collecting healthy snacks to distribute to those in need at our local food pantries, etc. A letter will be sent home to the parents asking for healthy donations for our cause. The students will make banners, flyers and posters to introduce our campaign within the school. The students will then collect and distribute the healthy snacks to the local food pantries.
Schuylkill Technology Centers (Mar Lin and Frackville, Pennsylvania)
Our Project will be called "Bullying— It Takes 3" In order for bullying to occur you need three people: The bully, the victim, and the bystander. Many kids are bystanders and they need to understand that they can affect positive change by learning how and when to speak up. STC students will be sponsoring an Anti-Bullying Awareness Day in both buildings. We will be challenging each shop to create a banner that can teach about some aspect of the bullying problem, as they see it. We will then have a contest for the best banner and have each shop present their banner to the entire school community. Having 12 districts that feed our vocational/technical school challenges our students to rise above their differences and celebrate their commonalities. We will use this project to build unity in our community as well as raise awareness about the issue of bullying and how it affects us all.
Flagstaff Middle School (Flagstaff, Arizona)
Flagstaff Middle School Team 8-3 has decided to "adopt" our local family resource center. The FRC offers tutoring services, computer access, and parenting workshops to the community. They recently requested warm clothing items and toiletry items for needy families. Our class held a clothing drive to support the center. We will continue to work with the FRC to volunteer, collect needed items, and raise funds.
Bala Cynwyd Middle School (Bala Cynwyd, Pennsylvania)
After thorough consideration of many social issues that are important to us, the eighth grade students from Bala Cynwyd Middle School have elected to work toward understanding the causes of and the circumstances around homelessness. We hope to raise awareness in our school about the issue and we are organizing a drive to benefit an organization in our area that is working to break the cycle of homelessness.
Marian Catholic High School (Allentown, Pennsylvania)
The freshmen at Marian are going to collect clothes and food for a local fire company. We always have several fires in the area at this time of the year (winter) so we thought it would be nice to help out our local fire departments. If it is too late to submit, that is okay. We are still doing the project the end of this month.
Riverside Junior/Senior High School (Riverside, Pennsylvania)
We are titling our project "Returning the favor". The students at Riverside Junior Senior High School, Mrs. Janesko's 11th grade history class have chosen to volunteer their time at the Gino Merli Veteran Center. Mrs. Klein touched us with her story about her husband, her hero. We felt that these veterans are sometimes forgotten and without them we would not be able to enjoy all of the freedoms we have today.
Frankfort Middle School (Frankfort, Kentucky)
The 8th graders at Frankfort Middle School are organizing a one-day event called "Top the Tent." We will be setting up tents outside two local grocery stores and asking shoppers to donate canned goods, cleaning products, baby necessities, and personal hygiene products. Our goal is to collect enough of these items that we can stack boxes of them from the ground to the tops of our tents. We will then donate the items we collected to nearby community agencies (such as our school district's Family Resource Center, the soup kitchen near our school, and the local women's shelter).
Salisbury Township High School (Allentown, Pennsylvania)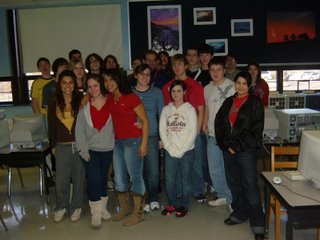 Life in the Making is an online project designed for students to help them make career pathway choices. On our Wikispaces, students will find information about Career Planning, Financial Planning, Social Networking, Test Preparation and Grades, Vocational Schools, and College. Each of these topics is further divided into sub-categories that help students make informed choices about their future. After participating in an online midterm exam about this project (you can view the midterm at this site: http://changingconnections.blogspot.com/2008/01/life-in-making.html ), they created digital research papers. Their projects can be found at this site: http://life-in-the-making.stsd.wikispaces.net/. Students will be sharing their online writing process and project at a workshop in May for Language Arts teachers in our Intermediate Unit. Because we wanted reach out in person to help others have a Life in the Making, we organized a school team to participate in Walk Now for Autism in April.
Pilgrim High School (Warwick, Rhode Island)
My students have created a "Do Something Club" in response to the video conference. They adopted two families over the holidays, providing them with food and gifts. They have organized a "Support the Troops" project sending military and their families needed supplies, formed a Relay for Life team for the Cancer Society, and held a Battle of the Bands with proceeds going to Save Darfur project.
Bryan Station High School (Lexington, Kentucky
Students at Bryan Station High School will each complete 9 hours of Community Service of their choice during the spring semester. For each hour that they work, they must write a minimum of 3 PARAGRAPHS that includes the following:
1. Brief summary of what they did.
2. Brief summary of the organization and their role in the community.
3. Personal response to the experience (how they felt, what they thought, etc.).
4. And most importantly, WHAT THEY LEARNED FROM THE EXPERIENCE AND HOW THEY WILL USE IT IN THE FUTURE.
This semester, students will complete the second half by going out into the community and volunteering their time and energy. In return, the students will be giving themselves to others and receiving the great satisfaction that comes with doing so.
Fairland High School (Proctorville, Ohio)
Fairland High School students were challenged and motivated to begin an organization entitled "I.M.P.A.C.T.". The purpose of the group is specifically for community service. IMPACT has decided to become involved in the following projects: 1). Contribute to the local food bank throughout the school year and 2). Participate and possibly begin a chapter of HugsAcrossAmerica.
"Stand Up, Speak Out and Lend a Hand!" has made an impact on our students. 🙂
An Update from Fairland:
Fairland High School students have been busy raising money for their service projects and actually seeing the "benefit" of the HugsAcrossAmerica (children in crisis) campaign. We will send details in a 2 minute video production that chronicles their activities.
Last week, when our students were preparing to provide teddy bears for a group of children who have a parent serving in the Middle East, things changed…Thursday, February 7th a teacher was stabbed and shot in front of her fifth grade students. (The teacher is recovering in a local hospital…her estranged husband killed himself after the incident) Our FHS students decided to get 17 teddy bears and give them to the 17 students who witnessed this horrible incident. We have since learned that the teddy bears were given to each child during their grief counseling on Monday and the staff, faculty and parents are overwhelmed with gratitude to our students. Thank you for getting the video conference together which planted the seed (to serve others) in the hearts of our students…and our faculty.
Mahanoy Area School District (Mahanoy City, Pennsylvania) The students at Mahanoy Area are going to put together a care package for our students who are in the foster care program. We plan on filling a personalized duffle bag with items these children many need. We are going to fund some of the project by selling hearts to our students and faculty in grades k-12. We will have a simple heart to have a name put on and posted on a wall for a dollar and a more decorative one for $5.
I will send you more information as we get things going. We will be selling the hearts during the month of February. We are still deciding what items to put in the duffle bags. They probably will differ depending on the age of the students. We decided to focus on these students because Gerda missed her family so much and we know these children miss that family connection as well. We also had a speaker at a previous conference who was lured in by white supremacists when he was a young man. He was raised in foster care and said he grew up wanting to belong to something and this group sucked him right in with a sense of family. He later left the group when he had a child born with a cleft palate and the group felt the child should be euthanized. We are looking forward to our project and hope it goes well.
Ridley High School (Folsom, Pennsylvania)
Ridley High School's service project will involve helping the people in Uganda through the Bead for Life program (www.BeadforLife.com). Our students will be selling beautifully handcrafted paper beads (necklaces, bracelets, and earrings) to raise money for this foundation that also sponsors community development projects in health, education, vocational training, affordable housing, and savings programs. Bead for Life's mission is to create opportunities for women to lift their families out of extreme poverty by connecting people worldwide in a circle of exchange that enriches everyone. In addition to selling the jewelry, our students will also be running a bake sale on a weekly basis to raise money to help the Bead for Life recipients, as well as the needy families in our own Ridley community. Our students are also volunteering as mentors for an elementary school in our district.
Letters from Peru: Klein Foundation receives letters from students in Lima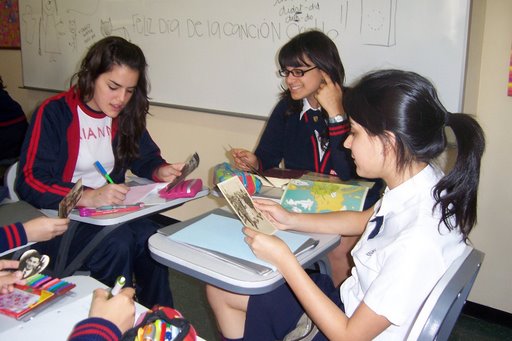 Many thanks to Sister Maria Teresa Scudellari, Religion teacher at Colegio Villa Maria La Planicie in Lima, Peru for sharing her students' letters and photos with the Klein Foundation. Sister Maria Teresa and her students received the Klein Foundation teaching materials from the Information Centres of the United Nations. These Centres throughout the world are using KF materials to bring Gerda and Kurt's message to youth in 65 countries.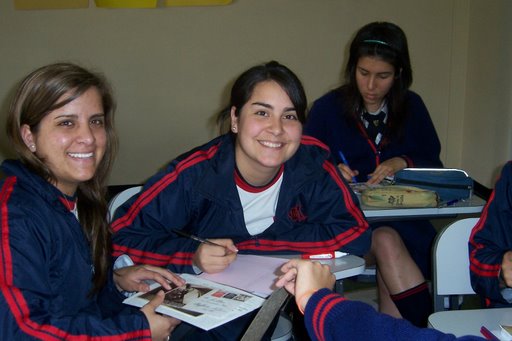 According to Sister Maria Teresa, these teaching materials provided not just a wonderful learning opportunity for her senior students, but something that will become an unforgettable experience: "There was absolute silence and many tears as they viewed the movie. Then we broke into groups, analyzed the pictures, maps and other documents. We used the discussion questions and the rest of the material in the kit which motivated them to discuss the ways in which we can work towards peace and understanding among peoples of all races, creeds and cultures… Because of you (Mrs. Klein), they will know that thee is hope for truth and justice, for tolerance and understanding, for a better world where men and women treat each other with dignity and respect." Here is a sample of the impact Gerda's story has had upon these students in Peru:
Dear Mrs. Klein,
First of all, let us thank you because you have motivated us and inspired our faith. In fact, it is thanks to your faith and your strong will that we have learned to value our life and everything we have, which you lost in the war.
On behalf of Mrs. Klein, and the Klein Foundation, we thank Sister Maria Teresa and her students at Colegio Villa Maria La Planicie.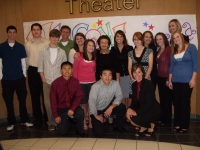 ETHAN REISBOARD , age 9, and his brother JONAH REISBOARD, age 6, of New Jersey had a lemonade stand in October, 2007. Their stand was a big success, and Ethan and Jonah generously donated a portion of their profits to the Klein Foundation. We thank them for their effort and caring.
In anticipation of the October 16, 2007 visit of Gerda Weissmann Klein to Mason High School in Mason, Ohio, the senior multicultural literature students organized and ran a bake sale to raise money for the Klein Foundation. For six days, students set up a table in the hallway, and between class periods they sold baked goods, candy, and chips that they made or bought themselves. The student body, as well as the teachers and administration of Mason High School, helped make this possible. All proceeds were donated to the Gerda and Kurt Klein Foundation.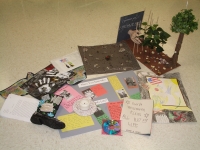 Honors Multicultural Literature students also constructed Creative Projects to capture the essence of the memoir All But My Life. Students' projects represented major elements of the novel, such as survival, faith, memories, and love, and they captured these ideas through artwork, photography, poetry, music, storytelling, and artifacts.
NAOMI MINKOFF: a 7th grader at Benchmark School in Media, Pennsylvania, chose World Hunger as her "Burning Issue" research project because it is one of the most widespread and persistent problems in the world. One important aspect of her project was to develop a way to make a personal impact in the world. Over the course of five months Naomi educated herself about this devastating epidemic and as a result felt the need to reach into her community and educate others. She held an Ending Hunger fundraising in her home to raise money to fund The Hunger Project; a global strategic organization committed to the sustainable end of world hunger. Naomi is committed to continuing to find ways to share her knowledge and to make a difference in ending hunger. Kudos to Naomi !
The Klein Foundation was thrilled to partner with MAGPI for a unique Internet2 program: Stand Up, Speak Out, Lend a Hand. Students involved in this program heard Gerda Klein during a special interactive videoconference event and then embarked upon their own service learning projects. Each participating school was challenged with designing and implementing a service learning project that combats social issues in their community. Schools had access to an online service-learning curriculum and a special volunteer mentor from The Gerda and Kurt Klein Foundation. In celebration of Dr. Martin Luther King's birthday, students will reconvene via videoconference to share their service learning projects with Gerda and the Klein Foundation mentors during a celebratory "Project Collaboration Videoconference" in January.
As a result of this unique interactive series, 30 schools from around the country and England initiated their own community service projects. We are pleased to share some of them with you and applaud the work of the dedicated students and teachers:
Calais Middle/High School
Calais, Maine
The Civil Rights Team promoted the Safe-Haven project (sponsored by the Weed and Seed initiative) which provides safe and alcohol/drug free after-school activities. The Civil Rights Team proposes to create a series of high-profile events, beginning with a monthly or bi-weekly youth dance club, helping the Safe-Haven become a more exciting place where youth want to be.
Cincinnati Christian High School Cincinnati, Ohio
Four-hundred forty students, during the week of November 13th, each brought in two canned goods for our 10th grade Honors English class to collect, box, and distribute through a local food bank (City Gospel Mission), in an outreach we titled CHEC (Christian High School Enterprise for the Community).
Our expectations about the student body were completely under estimated when they came together as if they were supporting our school's sports teams rather than our English class. Our empty box and scarce-can expectations were completely abolished by overflowing boxes and towers of cans. Our school rose to the occasion, coming together for an event beyond benefiting ourselves, but impacting the community around us in a way we could not have foreseen.
Highlands High School
North Highlands, California
Our project focused on supplying our local food bank (we have one across the street from our school that is run by a local church) with as many donations as possible between January and February. We have decided to focus on January and February because as the following quote shows, once the holidays are past, many people forget about our local hungry and the food banks still need donations. "Part of the struggle is that people gave in November or December so they think, 'I am done for the year,'" Mercer said. "When we get to summer, we need more food and more dollars to feed kids."
In addition, we will specifically ask for items that are nutritionally sound because another problem that many food banks suffer is that many of the donations are not "good" for sustaining health – such as Donuts, Sugar Cereals, and candy. Although these "junk" foods may be better than nothing and will help a person feel less hungry in the short term, the long term health effects can actually make the problem worse. After all, how can a person who can't afford to feed themselves afford to get insulin injections for diabetes, or medicines for high cholesterol? We hope to continue our food collection initiative into the Spring as well to address the food shortage of summer
Howell Memorial Middle School
Howell, New Jersey
After meeting Gerda Weissman Klein we were inspired to participate in the service learning project. Our Language Arts and Social Studies Class were excited since this is the first time a class has created a school project that would have a lasting impact.
As a class we brainstormed a list of ideas and came up with the Make a Difference campaign. Students would create a Wall of handprints that would recognize all the people who are committed to "Making a Difference." The wall is located in our school cafeteria where all can see. The class conducted a school wide assembly in January to teach the students about community service and asked the students and faculty to become a part of the campaign. The money raised from the wall will be used for gift cards to local grocery stores. The cards will be given to the local food pantry in Farmingdale. As a class we hope that Gerda's message, "Community Service is a Gift and not a punishment" will be embraced and will continue to grow each year here at Memorial Middle School, in Howell.
Lyman Hall High School
Walingford, Connecticut
The students involved in this service project have chosen to reach out to two of the minority groups at Lyman Hall High School : English as a Second Language students and Intellectually Disabled students. Service project students will spend 1-3 hours per week working individually and in groups with students from the minority groups. The purpose of this activity is for students to build an appreciation for the struggles faced by minority students, to make a connection to those students, and to eventually bring their knowledge to the larger school community. By reaching out and lending a hand, these students will bridge the divide between tolerance and acceptance
Riverside Jr./Sr. High School
Taylor, Pennsylvania
On Wednesday, January 3rd, the Gifted Education students and some of the Language Arts students from Riverside Junior/Senior High School volunteered their time for the United Neighborhood Centers in Scranton, PA. They spent time at Angel's Attic and Progressive Day Care. Angel's Attic is a year round program that provides clothing and household items for people of all ages. Volunteers did a number of activities including sorting donations, folding clothes, stocking shelves and general straightening of clothing area so as to make it more presentable to the community.
Progressive Day Care is before and after school care for toddlers through school-aged children. This program cares for the child's social, emotional, physical and intellectual needs. Volunteers assisted children with homework, served snack and supervised activities in the gym or outside.
Spring-Ford Area High School
Royersford, Pennsylvania
Spring-Ford Senior High School's Cultural Awareness Club is pleased to announce a partnership with Royersford Elementary. The Cultural Awareness Club's mission is to promote racial and cultural tolerance and celebrate cultural diversity. As our service project, the club is initiating a program to share its passion with local elementary students. Coined The Culture Connection, the teens will meet once a month for an afternoon of games, crafts, and other activities designed to teach their young charges about other cultures. Targeted elementary students are those who might not otherwise receive this type of positive information about other cultures.
University of Wisconsin – Eau Claire
Eau Claire, Wisconsin
University of Wisconsin-Eau Claire students will be standing up and speaking out against hunger. We have already volunteered for a day of food distribution at St. Francis Food Pantry. We also plan to get as complete a picture as possible on food security in this area including volunteering for the local food bank, a shelter for homeless families, shelters for homeless men and women, and The Community Table, which serves a meal daily to anyone who comes to the table. After this we plan to do at least one action project that will be designed to increase the food security for persons in this area.
Youth Leadership Academy
South Kortright, New York
The students at the Youth Leadership Academy , in South Kortright , New York will be participating in a monthly service learning project in their New York City home environment as part of their continued attendance in our follow up program, City Challenge, in Brooklyn, NY.
The Student Council of Clarence Central Senior High School in Clarence, New York participated in the 17th annual "sleep out" in February, 2007 to benefit the poor and homeless in their local community. The sleep out takes place each year to raise money and draw attention to the hundreds of men, women and children in Western New York who do not have a home and frequently do not have enough to eat. Over 200 students and staff participated this year and raised a total of $24,113.51! The Klein Foundation is grateful to be included as one of several organizations to receive a portion of the money raised as a result of this most worthwhile event. Thank you to Kevin Starr, the students, faculty and parents of Clarence Central Senior High!
The Temple Chai Youth Endowment Board of Phoenix, Arizona is a wonderful model for youth philanthropy. Each year, the Board chooses specific areas upon which to focus their philanthropy and creates an impressive RFP process to determine grant recipients. The Gerda and Kurt Klein Foundation is honored to receive a grant from this impressive group of students.
Class 8a at Sarasota School of the Arts and Sciences in Sarasota began a hunger project while studying the Holocaust. Reminded of the story in which Gerda Klein's mother sold a treasured ring in exchange for an orange for young Gerda's birthday, the class noticed the large amounts of food wasted in their own school lunchroom and decided to create a system in which uneaten and untouched food from lunch could be collected and given to the local Salvation Army. Hats off to Ms. Belanger and Class 8a for kicking off a caring community service project!
Diana Lewis' classes at the Chain of Lakes Middle School in Orlando, Florida collected $200 in donations in honor of Gerda Klein's birthday and in memory of Kurt Klein.